ACCESS YOUR FREE COPY!
eBook Download
DOWNLOAD NOW
PRODUCTS FOR HYDROGEN APPLICATIONS FROM MAXIMATOR GMBH & MAXPRO TECHNOLOGIES
MAXPRO Technologies is dedicated to providing customers with high-pressure solutions in the hydrogen industry.
Check out our latest resource, Products for Hydrogen Applications from Maximator GmbH & Maxpro Technologies.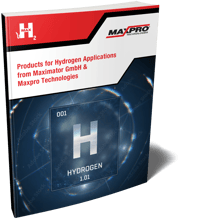 Because Hydrogen is a small molecular gas that is highly combustible, it is important to choose the best valves, fittings, tubing and gas boosters for safe operation.
Trust the quality valves, fittings, tubing and gas boosters from Maximator and Maxpro for your next hydrogen application project.
Download our brochure for a look at the types of high-pressure valves, fittings, and filters MAXPRO offers to support the needs of Hydrogen applications.
Fill out the form to the left to download the resource.